We've previously talked about Nespresso VertuoLine and how it's the first Nespresso machine that can make both Espresso and Coffee. On the other hand, Keurig has always been well-known as a single-serve coffee brewer that can also offer you a variety of other drinks like hot chocolate and tea. The question about the difference between Nespresso VertuoLine and Keurig 2.0 always comes up, so we're dedicating this post to answer this question and many more.
What Is Keurig 2.0, How Is It Different Than Other Keurig Brewers?
Before we explain the difference between Nespresso and Keurig, allow us to first explain what Keurig 2.0 is…
Keurig 2.0 is a single-serve coffee brewer that uses K-Cup pods to brew coffee offered from a variety of coffee brands. It also can make hot chocolate, tea and other hot beverages. What makes Keurig 2.0 different than other Keurig brewers is two things:
It is the first Keurig brewer that can brew a full carafe of coffee and not just a single-cup.
It features a technology that automatically reads the label on the K-Cup and adjusts the settings accordingly.
When it comes to brewing gourmet coffee drinks like Cappuccino or Latte, there are K-Cups for that. These K-Cups include all ingredients of the Cappuccino (coffee, milk, sweetener, flavoring.. etc.), so it's more like brewing a Cappuccino using an instant packet and less like making it using an authentic espresso machine.
The Keurig 2.0 is available in different models: K250, K350, K450, K550. Difference between these models would mainly be the sizes of the machine, the water tank and the display type.
One of the MOST Important things to keep in mind when it comes to Keurig 2.0 is that it uses a new type of K-Cups and it will NOT be compatible with other K-Cups. However, there are unofficial workarounds to solve this.
What Is Nespresso VertuoLine?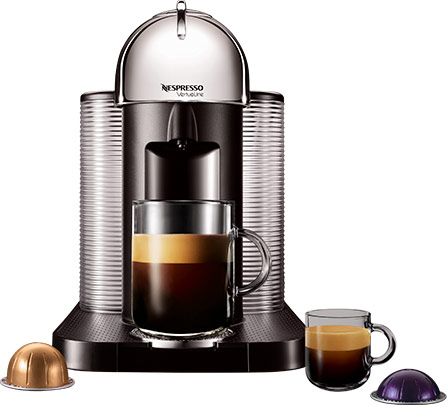 VertuoLine is Nespresso's first machine that brews both Espresso and coffee using a new revolutionary technology called Centrifusion. Unlike it's other espresso makers that use pump pressure to brew espresso, VertuoLine spins the pod rapidly while water goes through it to produce coffee or espresso. How is VertuoLine different than other Nespresso machines (known as OriginalLine Nespresso)?
It uses totally new capsules, it is not compatible with OriginalLine capsules. The capsules are available as Espresso or Coffee capsules.
It uses laser technology to read the rim of the capsule and automatically identify what type of capsule it is and adjusts itself accordingly.
Click here to read our detailed post about the Nespresso VertuoLine system.
So, How Are Nespresso VertuoLine and Keurig 2.0 Different?
They are quite different actually, in many ways:
Nespresso makes fresh and authentic Espresso and Coffee, it uses capsules made by Nespresso only.
Keurig 2.0 is a coffee and hot beverage brewer that can brew up to 9 cup sizes, including carafe. It uses pods created from different coffee brands like Starbucks, Dunkin' Donuts, Green Mountain, Folgers and more.
Both machines can adjust automatically by reading the label on the coffee pod. They also offer manual options to adjust coffee to your taste.
Nespresso has automatic capsule ejection, it collects used pods in a drawer and holds up to 12 capsules before needing to discard. With the Keurig, pods are discarded manually after each use.
Who Should Buy VertuoLine and Who Should Buy a Keurig?
If you're mainly a coffee drinker and want what a drip coffee machine can make you, then a Keurig should be your choice. With Keurig, you'll have the option to have coffee from your favorite brands using the convenience of a single-serve machine.
If you like espresso, cappuccino, latte and coffee, Nespresso VertuoLine is the way to go. Bundling your VertuoLine with a milk frother will allow you to create delicious coffee drinks that taste just like your favorite cafe's. The coffee VertuoLine produces will most likely taste different than a drip machine due to the way the machine work. However, the quality is certainly higher than Keurig.
Video Reviews:
Keurig 2.0 K550 Review:

Nespresso VertuoLine Review:
Common Questions About Nespresso VertuoLine and Keurig 2.0:
Can I Use My Own Coffee with Keurig 2.0 or VertuoLine?
There is a refillable coffee pod for Keurig 2.0 called Ek0brew that is available for a single cup or a carafe. There are no available refillable capsules for VertuoLine.
How Do You Set the Temperature on the Nespresso VertuoLine?
You cannot manually set the temperature on the Vertuoline. The machine was built to take all the guess work out of making your cup of coffee. When it reads the barcode on your chosen capsule, it will set itself to the optimal settings, that includes water volume and temperature. While you can override the volume setting (increase or decrease it), you can't do that with temperature.
Can you use a travel mug with the Keurig 2.0 and Nespresso VertuoLine?
Yes, both machines can fit a travel mug under their dispensers. With the Vertuoline you can set the drip tray to hold a mug and a short espresso cup higher and closer to the spout.
What Capsules are available for the VertuoLine?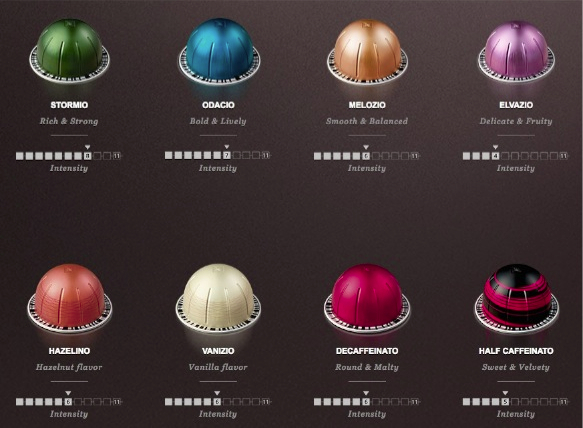 Currently, there are 4 types of espresso and 8 coffee available for VertuoLine.
Can I Make Hot Chocolate with Nespresso VertuoLine?
No, VertuoLine can only make coffee and espresso drinks.