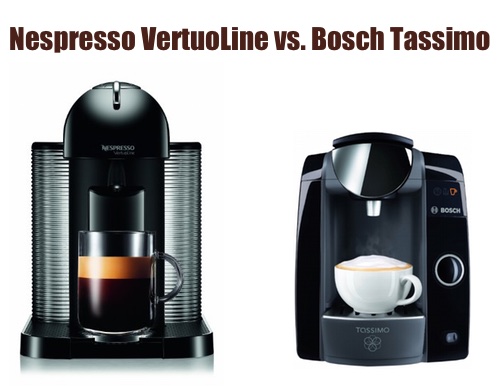 People often compare Nespresso VertuoLine to Bosch's Tassimo Beverage system for one reason:
Because both machines feature a bar code technology that automatically recognized the inserted capsule and adjusts the machine settings accordingly.
But that's pretty much where the similarity ends.
In this post, we'll be looking at the difference between the VertuoLine and Tassimo in details.
Features of VertuoLine vs. Tassimo:
Features of Nespresso VertuoLine: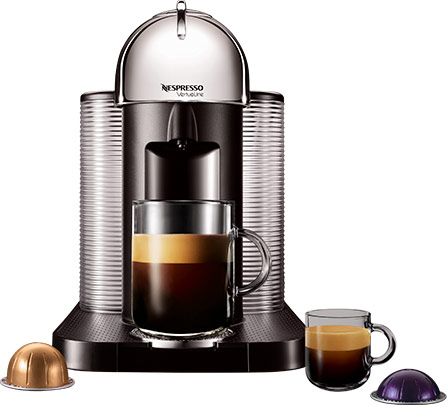 Please read our extensive Nespresso VertuoLine guide by clicking here.
The first Nespresso machine that makes espresso and coffee.
Uses a brand new technology called Centrifusion which rapidly spins the capsule to brew coffee or espresso.
An embedded laser reads the bar code on the coffee capsules and automatically adjusts the machine for you.
Ability to reprogram the machine to your liking.
Create gourmet coffee drinks (Cappuccino, Latte) by using Nespresso's Aeroccino milk frother (available separately or as a bundle).
Uses new capsules from Nespressso (different from Nespresso's Original capsules). Available as espresso or coffee pods.
Drawer holds up to 12 used capsules before needing to discard.
Features of Bosch Tassimo Beverage System:
Automatically adjusts machine using bar code technology.
Can prepare a variety of coffee drinks including, coffee, cappuccino, latte, macchiato and more.
Noise reduction system for quiet operation.
T-disc capsules are available from many different brands.
The Difference Between VertuoLine and Tassimo:
Coffee Preparation:
Nespresso VertuoLine:
The VertuoLine uses never-seen-before technology that rapidly spins the capsules to evenly infuse it with water and extract the perfect espresso or coffee every time.
Although the machine automatically reads the bar code on the capsule to adjust itself for the best settings, you still have the ability to increase or decrease the volume of the coffee to get it to your taste.
Bosch Tassimo:
Like most coffee beverage makers, the Tassimo uses pump pressure to brew coffee.
The Tassimo also features a bar code technology that automatically scans the capsules and adjusts to best settings.
The Capsules: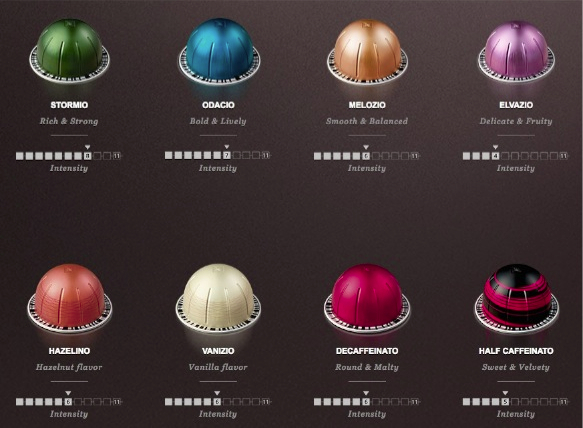 VertuoLine's capsules include coffee/espresso only. When preparing Cappuccino or Latte for example, you'll be using your choice of fresh milk which you'll heat and froth using the Aeroccino frother (or your own choice of frother) and you'll be adding that to a shot of freshly brewed coffee.
Tassimo's T-Discs include a variety of drinks including coffee, espresso, cappuccino, latte, tea and more. If you opt for a Cappuccino T-disc for example, the machine will brew a pre-packed espresso capsule as well as a milk capsule (instead of using fresh milk). That's one option of course. There's no frother bundled with the machine, but you can always buy your own from any brand (see our recommended frothers here).
Capsule Availability:
VertuoLine's capsules are made exclusively by Nespresso and there are NO other compatible capsules. They can be purchased from Nespresso, either in their local boutiques which are available worldwide, or they can purchased online from Nespresso or Amazon.
T-discs for Tassimo are available from different coffee brands. They're sold widely online or in some local stores.
Clean-Up:
VertuoLine's used capsule drawer means the machine automatically ejects used coffee capsules and keeps it in that drawer until it fills up at around 12 to 13 capsules. That means no clean up required after each use.
Tassimo does not have a used capsule drawer. You'll have to discard each t-disc individually after each use.
Which Is Best To Buy? Nespresso VertuoLine or Tassimo?
Customers, as well as us, prefer the VertuoLine over Tassimo for many reasons:
Design wise, the Vertuoline has a beautiful and modern design that is way ahead of Tassimos. As an appliance that sits on your counter top all the time, you'll want something as beautiful as the VertuoLine.
Nespresso's coffee capsules are known for their highest quality. You're guaranteed a fresh an aromatic cup of coffee every time.
Nespresso doesn't serve packed milk capsules and artificial flavors, which we're totally against. When preparing milk-based drinks, you'll want to use fresh milk, which is what the Aeroccino helps you with.
Watch The Machines In Action:
How To Use Nespresso Vertuoline:
Making Coffee Using Nespresso VertuoLine:

Making a Latte Using VertuoLine:

Bosch Tassimo Unboxing + Coffee and Cappuccino Preparation: