Before you learn the difference between the Nespresso Evoluo models, click here to learn about the features of the Evoluo espresso maker.
Nespresso Evoluo vs. Evoluo Deluxe, What's the Difference Between Them?

When it comes to the Evoluo and Evoluo Delxue, the difference is only in the capacity. That is the capacity of the water reservoir and the capacity of the used capsule drawer:
The Evoluo Delxue has a water reservoir capacity of 54 ounce and a drawer that holds up to 17 used capsules.
While the Evoluo has a water reservoir of 40 ounce and a drawer that holds up to 13 used capsules.
Click here to learn more about the Nespresso Evoluo Deluxe, read the customer reviews and buy it. (Amazon Link)
Is It True That the Nespresso Evoluo Hotter Than the VertuoLine?
Yes, that is certainly true. Some of Nespresso customers have complained that the Vertuoline wasn't hot enough to their taste, so they fixed this issue in this new addition to the VertuoLine collection.
Who Should Buy the Nespresso Evoluo and Evoluo Deluxe?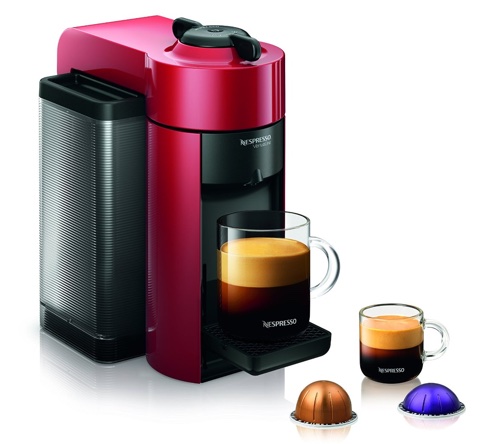 With the Evoluo, you'll be able to enjoy delicious coffee and espresso drinks with a push of a button. Whether to get the Evoluo or Evoluo Deluxe mostly depends on how many people will be using the machine.
We predict that the Evoluo is prefectly sized for one to two people usage. You'll be able to brew at least 5 cup of coffee or around 10 shots of espresso (using default sizes) before the need to refill the water reservoir.
The Evoluo Deluxe is certainly better suited for a larger family or an office where you can brew more cups on a daily basis without the need for constant refilling of the water reservoir.
Want to learn the difference between Nespresso Evoluo and VertuoLine? Click here.