If you got yourself a sleeve of Nespresso Vertuo Carafe pods, but as you insert them into your Nespresso Vertuo machine, nothing brews. There's a reason for this common issue.
Why Is My Nespresso Carafe Pods Not Working?
The reason the Nespresso Vertuo Carafe pods are not working in your Nespresso machine is: Compatibility.
Nespresso Carafe pods are compatible only with: Nespresso Vertuo Next, Pop, Vertuo Creatista and Lattissima.
So if you're trying to brew the Nespresso Carafe pod using: Nespresso Vertuo, Vertuo Plus or Evoluo, it won't work.
Nespresso Carafe Pods
I have a full guide on Nespresso Carafe (or Pour-Over Style) pods that explains everything on the subject. But there are a few things I can tell you now..
What Is a Nespresso Carafe Pod?
Nespresso Carafe Pod is an 18-oz coffee pod for Nespresso Vertuo.
Nespresso Carafe pods are available in two variations: dark roast Pour Over Style, and a mild Pour Over style.
Unfortunately, Nespresso has locked this serving size to its newer Nespresso Vertuo machines starting at Vertuo Next and any release after it: Vertuo Pop, Vertuo Creatista and Vertuo Lattissima.
The same thing goes for Nespresso Alto pods.
Nespresso Vertuo Plus Carafe
Nespresso Vertuo Plus is a great model that I personally own. And I'm sure a lot of you have it, too. So how you do go about making a carafe using a Nespresso VertuoPlus?
Can Nespresso Vertuo Plus Use the Carafe Pods?
No, it can't.
If you insert a Carafe pod into a Nespresso Vertuo Plus, this will happen:
Vertuo Plus won't be able to read the Carafe pod barcode.
The brew button will start to blink red, and the lid will open back up automatically.
Nespresso Vertuo Plus barcode reader is not programmed to read the barcode on the carafe pod, so it does not recognize it.
Nespresso Carafe Machines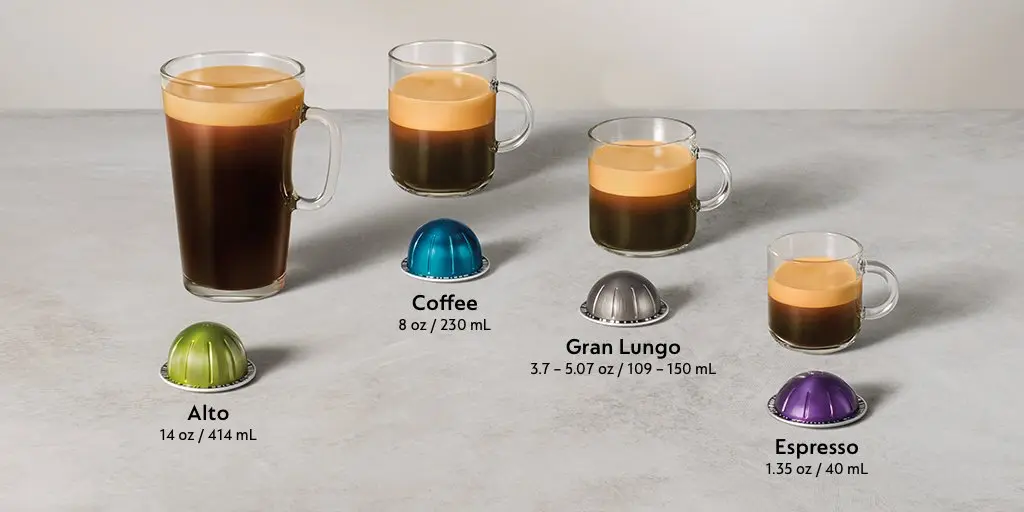 Are there Nespresso Carafe machines that resemble drip coffee makers? As in, a Nespresso machine that comes with a coffee pot?
No, Nespresso is a strictly single-serve machine that uses coffee pods to brew a single cup at a time.
But because Nespresso has noticed that many people are looking for a larger serving of coffee, they created the Carafe pod.
But it's just called that to indicate that it can make a large serving, it does not have to be brewed into a carafe, any mug of travel mug of 18 oz capacity will do.
Which Nespresso Machines Can Do the Carafe Size?
As I stated above, the Nespresso Carafe pod is compatible with newer Nespresso Vertuo machines only:
(and other future releases)
When using the Nespresso Vertuo Carafe Set (which is sold separately), I do have to warn you that it will not fit under the Nespresso Vertuo Pop, which is quite short in height. But it should work fine with the Vertuo next and others.
How To Brew a Carafe Size Using Other Nespresso Vertuo Machines?
If you have a Nespresso Vertuo, VertuoPlus or Evoluo, and want to brew a larger bath of coffee, what do you do?
You don't have to use the Carafe pod to brew a large quantity of coffee. Simply use multiple pods.
Remember that 'Carafe Pod' is just a name. It is physically a larger pod that contains more ground coffee, enough to brew an 18 oz of coffee. But it's also slightly more expensive, and you get 7 pods per sleeve instead of 10.
The alternative way to go here is to use multiple pods to brew more coffee at once. So instead of using a single coffee 7.7 oz pod, use two or three pods to fill a full carafe. I realize this isn't an economically friendly solution, but it's one way to do it.
Which Carafe To Use:
If you want, you can purchase Nespresso's carafe set, which includes a 20 oz glass carafe and a long silicone spoon for stirring coffee.
You can also use any travel mug, up to 7″ tall. If your travel mug is longer, you can always use a small rack to raise your Nespresso machine. Using a drawer style Nespresso capsule pod always helps with this.
Related Posts