Lavazza is an Italian coffee brand that is popular around the world. It offers a line of coffee products, from coffee beans, ground coffee as well as coffee capsules for many different systems, starting with their own Lavazza coffee machines.
But the question I am answering today is, whether you can buy Lavazza Capsules to work with a Nespresso Vertuo (VertuoPlus, Vertuo Next… ) or not.
Do Lavazza Capsules Fit Nespresso Vertuo?
If you are a Nespresso Vertuo owner and a fan of Lavazza coffee, you might be wondering if Lavazza capsules are compatible with your machine. Unfortunately, Lavazza capsules are not compatible with Nespresso Vertuo machines.
Nespresso Vertuo machines use a unique barcode system to recognize and brew specific capsules. These capsules are larger in size and have a different shape compared to Nespresso Original capsules. Lavazza capsules are designed to be compatible with Nespresso Original machines only, which means they won't fit in Nespresso Vertuo machines.
This is one of the reasons I chose Nespresso OriginalLine over Vertuo, because of capsule compatibility.
How To Use Lavazza Coffee Ground with Nespresso Vertuo
This is a possible solution if you still want to enjoy Lavazza coffee with your Nespresso Vertuo machine. You can try reusable pods that are compatible with Nespresso Vertuo machines, such as Pod Star capsules. These reusable pods allow you to use your own coffee grounds and are eco-friendly.
However, few things I want to mention:
I don't like reusable pods. Vertuo or OriginalLine. They have a good chance of breaking your machine. They also don't always produce the best coffee because you won't always use the correct grind size for each drink.
Last, but not least, they take convenience out of your Nespresso experience. Dealing with refilling, cleaning and wash a coffee pod is not the luxury or convenience you are looking for when buying a Nespresso machine.
Lavazza Capsules for Nespresso OriginalLine
Lavazza has a line of coffee capsules made for Nespresso OriginalLine machines, which include: Essenza, Inissia, Citiz, Pixie, Lattissima… or even if you get an OriginalLine machine from another brand like L'OR's Barista System.
Lavazza's Nespresso-compatible capsules come in a range of flavors and intensities, so you can find the perfect blend to suit your taste. Here are some of the options available:
Lavazza Armonico Espresso: This dark roast blend has hints of chocolate and toasted cereals, making it a great choice for those who enjoy a rich, full-bodied coffee.
Lavazza Deciso Espresso: With a strong, intense flavor and notes of cocoa and wood, this blend is perfect for those who like their coffee bold and robust.
Lavazza Avvolgente Lungo: If you prefer a longer coffee, this medium roast blend is a great choice. It has a smooth, velvety texture and notes of caramel and chocolate.
Lavazza Leggero Lungo: For a lighter, more delicate coffee, try this blend. It has a floral aroma and notes of honey and dried fruit.
All of Lavazza's Nespresso-compatible capsules are made with 100% Arabica coffee beans, carefully selected from around the world for their quality and flavor. The capsules are also hermetically sealed to ensure freshness and preserve the aroma and taste of the coffee.
Using Lavazza capsules with your Nespresso OriginalLine machine is easy. Simply insert the capsule into the machine and press the button to start brewing. The capsules are also fully recyclable, so you can enjoy your coffee and feel good about reducing waste.
Lavazza's OriginalLine capsules are identical to Nespresso's OriginalLine capsules in terms of design. But you'll get to try different blends than Nespresso's and they will cost you less. They're also widely available in local groceries and at online retailers.
Are Other Lavazza Capsules Compatible with Nespresso?
| | |
| --- | --- |
| Coffee Machine | Compatible Pods |
| Nespresso OriginalLine (from Nespresso or other brands) | Lavazza OriginalLine Capsules |
| Lavazza Blue | Lavazza Blue Capsules |
| Lavazza a Modo Mio (Jolie, Tiny, Idola, Desea) | Lavazza a Modo Mio Pods |
Like I mentioned earlier, Lavazza creates so many type of pods, some are exclusive to Lavazza's own coffee machines.
Lavazza produces three types of capsules: Lavazza Blue and Expert and Lavazza A Modo Mio. Each of these capsules is designed to work with specific Lavazza machines.
For other coffee systems, Lavazza makes capsules for Nespresso OriginalLine and for Keurig K-Cups.
Lavazza produces a range of capsules that are compatible with Nespresso Original machines. These capsules are made from aluminum and are designed to work with Nespresso Original machines. They are available in a range of blends, including Intenso, Deciso, and Armonico.
Important note: When buying Lavazza pods for Nespresso, make sure you're buying the newer aluminum made capsules which are of much higher quality than the older plastic pods.
Is Lavazza Blue the Same as Nespresso Pods?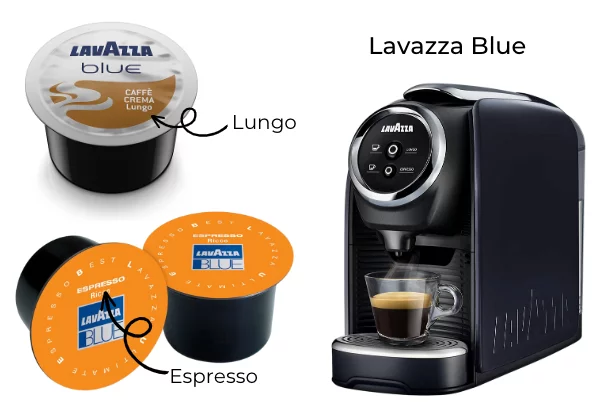 The short answer is no. Lavazza Blue pods are specifically designed for Lavazza Blue machines, while Nespresso pods are designed for Nespresso machines.
I understand where the confusion is coming from, Lavazza Blue and Nespresso OriginalLine look kind of similar at first glance, but they're actually different in size and shape.
Lavazza Blue pods are tub-shaped and measure approximately 47mm in diameter and 27mm in height. Nespresso pods, on the other hand, come in two sizes: Original and Vertuo. Original Nespresso pods are smaller and measure approximately 37mm in diameter and 30mm in height, while Vertuo Nespresso pods are larger and measure approximately 62mm in diameter and 28mm in height.
Another difference between Lavazza Blue and Nespresso pods is their compatibility with different machines. Lavazza Blue pods are only compatible with Lavazza Blue machines only, while Nespresso OriginalLine pods are compatible with any kind of Nespresso OriginalLine machines, either made by Nespresso or other brands.
Lavazza A Modo Mio Compatible with Nespresso?
A Modo Mio is a popular brewing system by Lavazza around Europe, especially. Two of their popular machines are Lavazza Jolie and Lavazza Tiny.
The question here is, can you use Lavazza A Modo Mio pods in Nespresso? Or the other way around?
No, they're totally different things. Different shape all together and they can't fit in any Nespresso machine, not an OriginalLine or Vertuo.
The Wrap Up – Buying Lavazza Capsules for Nespresso
If you're a Nespresso Vertuo owner, bad news, there are no Lavazza pods, or any other pods actually, for your Vertuo other than the ones from Nespresso. Will other brands make pods for Vertuo soon? No, not until Nespresso loses its patent, which can take several years.
If you own a Nespresso OriginalLine, you can enjoy all the Lavazza coffee you like!
Two things to keep in mind:
Make sure the box says 'Compatible with Nespresso OriginalLine machines'
Make sure you are buying the updated Lavazza Nespresso pods, which are made of Aluminum.
When it comes to other type of capsules made by Lavazza, each one of them is made especially for its respective coffee system. Lavazza Blue pods are for Lavazza Blue coffee machines. Lavazza a Modo Mio are for Lavazza a Modo Mio coffee machines. None of these will work with Nespresso OriginalLine or Vertuo line.
Related: