A common question I see is from Nespresso Aeroccino users who are wondering whether or not they can perform Latte Art using milk frothed using an Aeroccino or a Lattissima..
The answer to that question has always been a definite no, because of the foam texture that Aeroccino produces. It's too thick and airy to make any latte art (read about the difference between Aeroccino vs Steam Wand textured milk).
Turns out… there are some ways around it. If you'd like to try! It's not as straight forward as creating your usual milk froth with Aeroccino. But if latte art is something you'd like to do using your Aeroccino, you can always try this tutorial.
How To Make Latte Art Using Aeroccino 3 or 4
Let me break down this tutorial for you, because understanding the basics of latte art will help you achieve the best results.
The Milk:
The base of latte art is bubble-free, creamy, glossy milk texture. To get this texture from your Aeroccino, you'll need to do two things:
Make hot milk and not the dense froth setting. So when using an Aeroccino 3, remove the coil from the whisk. If using an Aeroccino 4, pick the light foam setting.
You'll want to transfer the milk from the Aeroccino to a pitcher and swirl it or knock it to get rid of any remaining bubbles.
The Pour:
Pouring milk for latte art is a skill on its own. The first thing you'll need is a pitcher with a nice spout that will help you pour the milk correctly. You can buy any frothing pitcher and transfer the milk from the aeroccino it it.
The Cup:
Believe it or not, using the correct cup will help you make great latte art. You'll want a cup with a large surface. You probably have noticed that most baristas or coffee houses use similar style of cups because it's easier to draw on and displays the latte art nicely.
How To Make Latte Art Using Lattissima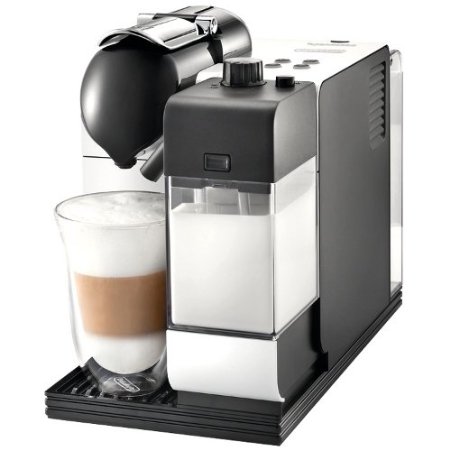 Lattissima machines have built-in milk frothers, so it's a little tricky. To start, you'll want to use the hot milk option and adjust the froth selector to the lowest sitting, if your machine has that.
Use the frothing pitcher as a cup so the frother dispenses the milk directly to it. From this point, you'll want to follow the same steps in video. Swirl the knock the milk to smooth it out until you have no bubbles left then follow the directions of pouring milk.
What Type of Milk Can You Use
The type of milk you use affects the quality of the froth and milk texture. Full cream or low fat milk perform best because of their fat content.
Milk alternatives like almond milk, soy, coconut or oat…. can all be used, but your results will vary. So it's a matter of trial and error.
I found the best results to come from milk alternatives made especially for coffee use such as Califia Almond Barista or Oat Barista.