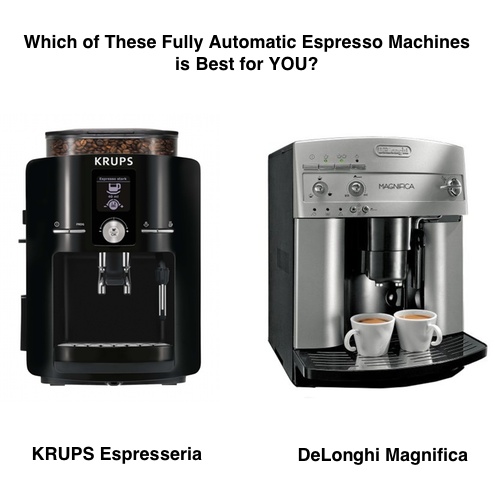 We've already covered both these machines separately here and here, but since both the KRUPS Espresseria and DeLonghi Magnifica fall into the same category of fully automatic espresso machines under $1000, it's worth it to compare them to each other. So, let's have a look at the features of each machine to see which of these are worth your money.
KRUPS EA8250001 Espresseria Fully Automatic Espresso Machine: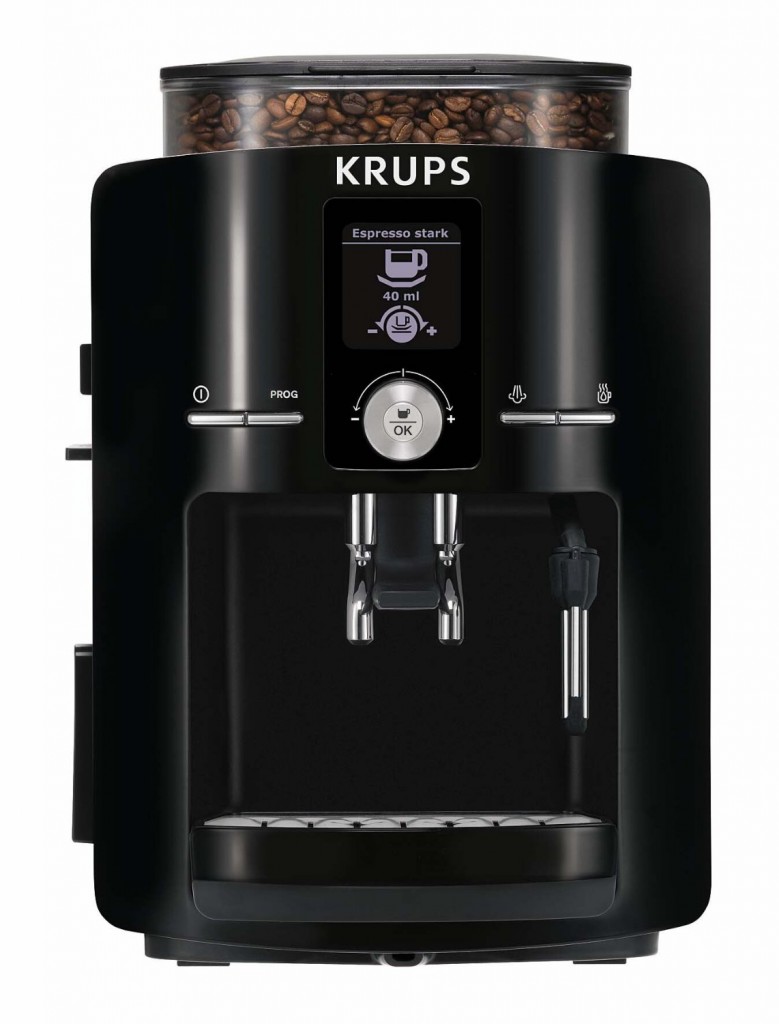 Features:
Patented thermoblock heating system.
15 bar pressure pump.
60 oz water tank with automatic water level indication.
Conical burr grinder with automatic bean dosing.
9 oz (275 grams) bean hopper capacity with a seal to preserve freshness.
LCD display for easy settings and customization controls.
Complete drink volume and coffee grind customization.
Swivel steam wand for easy milk frothing and milk heating. Also dispenses hot water.
Adjustable dispenser to avoid splashes and accommodate different cup sizes.
Water filteration system, so you can use tap water and the machine will automatically filter it.
Included with the machine: KRUPS XS6000 Auto-cappuccino system, water flitration system, cleaning tablet, descaling powder and krups xs4000 liquid cleaner for milk systems which helps clean the steam/frothing nozzle on your espresso machines.
Available in black or red.
Dimensions: 11.5 x 8 x 12.5 inches
DeLonghi ESAM3300 Magnifica Super-Automatic Espresso/Coffee Machine:
Features:
15 bar pressure pump.
60 oz water tank.
Conical burr grinder with 7 oz (200 grams) bean container.
Fully customizable drink volumes and grind settings.
Steam wand/hot water dispenser.
Adjustable dispenser to accommodate different cup sizes.
Instant reheat function works on reheating the core of the machine to ensure the best temperature.
Rotary and push button controls.
Dimensions: 17 by 13 by 18 inches
So, Which is Best? The KRUPS Espresseria or DeLonghi Magnifica?
As you can see from the features listed above, both machines are almost identical in how they perform. They have the same water reservoir capacity, and almost the same bean hopper capacity, and both use a conical burr grinder to freshly ground your coffee. But here are the few differences that give each machine an edge over the other:
The KRUPS Espresseria features an LCD screen and a dial knob for controls and customization, this makes it easier to use and control. It is also smaller in size and available in two colors.
The DeLonghi works as it's advertised. It's lack of an LCD display makes the KRUPS Espresseria a better option for me, but that's the matter of a personal choice really.
The Espresseria includes many accessories out of the box, like the Auto-Cappuccino system and cleaning tablets that you might need months down the road. It is also less expensive than the DeLonghi Magnifica, so that gives it some extra points!
As you can see, I am slightly more biased towards the KRUPS Espresseria for the points mentioned above. Make sure to go through the customer reviews of each machine to make sure you got the idea of how it works. Also, if you opt to buy your machine from Amazon (which we linked to above), rest assured that your machine will be covered by their A to Z guarantee, which means: if you don't like it, simply return it!