Gaggia Brera vs. Platinum Vision vs. Titanium Super Automatic Espresso Machines: What's The Difference and Which Is Best?
Three of the best Gaggia Super Automatic Espresso machines are:
Gaggia Brera – Gaggia Platinum Vogue and the Gaggia Titanium
In this post, we'll do a comparison between these 3 super automatic machines so you can choose the one that suits your needs best.
Gaggia Brera, Gaggia Platinum and Gaggia Titanium Comparison Chart:
Image
Title
Gaggia 90500 Titanium Super Automatic Espresso Machine, Silver
Gaggia 90951 Platinum Vision Automatic Espresso Machine with Milk Island, Platinum
Gaggia Brera Superautomatic Espresso Machine, Silver
Feature
Automatic espresso machine
A stainless steel lined brewing boiler and additional steaming boiler; 15 bar pump
60-ounce water reservoir; built-in conical burr grinder; 18 adjustable grind settings
Frothing wand; rapid steam for froth with no wait time; 8-1/2-ounce bean hopper; cup warmer
Measures 11 by 15-3/8 by 15-1/6 inches

Automatic espresso machine with simple touch-screen controls
15-bar pump pressure; stainless-steel-lined boiler; built-in ceramic burr grinder
Bypass doser for preground coffee; cup warmer; removable brew group
57-ounce removable water tank; Pannarello steam wand and Milk Island included
Measures 12-3/5 by 16-1/3 by 14-4/7 inches

Mavea Water Filter - four stages of filtration to remove impurities and reduce scale build up
Low energy consumption - standby mode activates after one hour of idle time
Programmed to notify users when care is required
Pre-infusion feature ensure maximum flavor and aroma extraction

ItemDimensions
Height
15 inch
26 inch
11.5 inch
Weight
26 pound
2.2 pound
19 pound
Width
11 inch
24 inch
15.5 inch
Length
15 inch
20 inch
10 inch
Rating
Reviews
Read Reviews
Read Reviews
Read Reviews
Link
More Info
More Info
More Info
Similarities: What The Machines Have In Common:
All 3 machines have durable stainless steel exterior.
Equipped with built-in ceramic grinder that won't rust or burn the coffee as it grinds it, preserving most of the flavor of the beans.
They all have digital display screens (although of different sizes).
All have 15 bar pump pressure.
Automatic cleaning and descaling alert.
Removable brewing group for easy cleaning.
Coffee bean hopper capacity: 250 gr
All programs and pre-setting can be readjusted
Adjustable coffee grind settings
All include a bypass doser for pre-ground coffee
All have stainless steel boilers
Differences: What Is the Difference Between the Brera, Platinum and Titanium:
Water Tank Capacity:
Brera: 1.2 L
Titanium: 2.3L
Platinum: 1.7L
Control Panel:
Brera: knob for brew/steam switching+ buttons
Titanium: all buttons
Platinum: Touch screen + knob for adjusting brew strength.
Milk Frother:
Brera: classic milk frothing wand
Titanium: Classic milk frothing wand
Platinum: Classic frothing wand with Milk Island.
Additional Features:
The Gaggia Platinum features an 'Espresso Plus' system which allows you to adjust the intensity of the coffee brew with a simple dial switch (this is different from adjusting coffee bean grind). It also includes a milk container which is perfect for frothing milk on its own and storing left-over milk in the fridge.
Which Is Best: The Gaggia Brera, Platinum or Titanium?
First of all, it's important to note that these three machines are not on the same price range: the Brera being the most affordable, then the Titanium then the Platinum. That said, with budget aside, here's what we think:
The Gaggia Platinum wins for its touch screen control and its Espresso Plus feature, which the other machines lack.
The Titanium is best when it comes to water tank capacity, saving you many refilling trips.
The Gaggia Brera is the best size wise, it's perfect for small spaces and office use. It's also the most affordable.
Click here to learn more about the Gaggia Brera, read the customer reviews and buy it.

Click here to learn more about the Gaggia Platinum Vogue, read the customer reviews and buy it.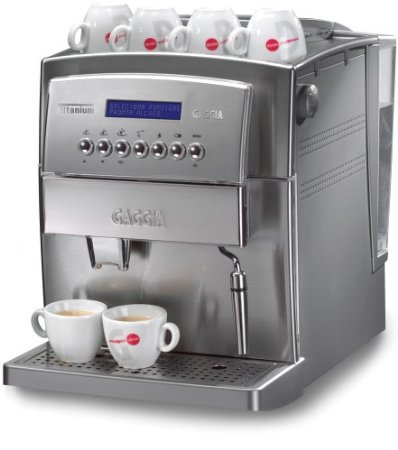 Click here to learn more about the Gaggia Titanium, read the customer reviews and buy it.