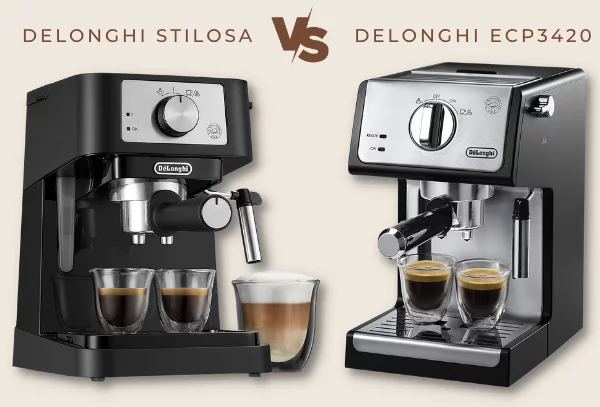 If you've ever visited Amazon recently looking for an espresso machine, then you probably seen the two best sellers: DeLonghi Stilosa and ECP3420 models.
These are budget manual espresso machines for under $200, which is the perfect entry level price for anyone buying an espresso machine for the first time. But the question is, what's the difference between DeLonghi Stilosa vs DeLonghi ECP3420.
That's exactly what we answer in this post.
Similarities Between DeLonghi Stilosa EC260 and ECP3420 Espresso Machines
I am going to start with how these two machines are similar, and this is because there's barely any differences between them. But we'll get to that in a minute.
Type of Espresso Machine
Both of these machines are entry-level manual espresso machines by DeLonghi. Practically priced under $200, and that's about the max you should pay for any of these, anything more is not worth it.
What does manual espresso machine mean?
It means that you will manually start and stop the flow of your espresso shot. There are no preset on these models, so you don't just press a button and a premeasured amount of espresso extracts. You'll turn a knob to start the extraction, then close it to stop.
This type of espresso machines leave a lot of room for error, but overtime, you start to learn how to make properly measured espresso for your recipes.
Steaming Wand
Like espresso extraction, steaming is manual, too. But that goes for most DeLonghi manual or semi-automatic machines. The quality of the steam wand is the same on both models, and it's not of best quality. For a beginner, or for anyone who enjoys their milk to be frothy, they'll enjoy the results of the Paranello style steam wand. It jets enough air into the milk to create high foam for a cappuccino or latte. But if you want to create micro-foam style milk texture for latte art, this wand isn't the best. But overall, it does its job of heating and frothing milk perfectly.
Heating Systems
Both Stilosa and ECP3420 have the same stainless steel boiler.
Portafilter Size
DeLonghi's standard portafilter which is 51mm
Difference Between DeLonghi Stilosa vs ECP3420 (and ECP3120, ECP3630)
Functionality wise, there is no real difference between these two models. As you can see in the Similarities section above, the basics of the machines are exactly the same. Same boiler, same steam wand and both are manual espresso machines.
The difference lies in the design and available variations of each model.
Design
DeLonghi Stilosa is available in one design with black plastic housing and some stainless steel paneling on the front. No other variation
The other model, DeLonghi ECP3420 is available in three variation, each has its own model name: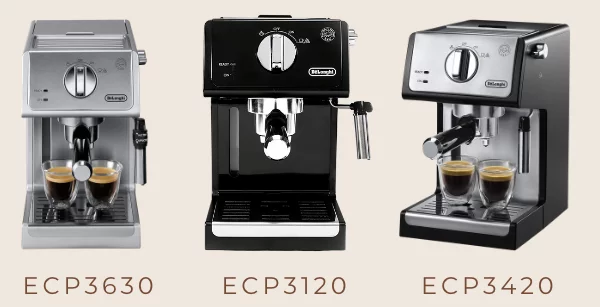 DeLonghi ECP3120: full plastic housing in black
DeLonghi ECP3420: Plastic housing in black with stainless steel top and back panel.
DeLonghi ECP3630: Full stainless steel housing
Included Accessories
DeLonghi Stilosa
Portafilter
Tamper
Filter for Single Espresso
Filter for Double Espresso
Measuring Spoon
DeLonghi ECP3420
Portafilter
Tamper
Filter for Single Espresso
Filter for Double Espresso
Filter for ESE pods
Measuring Spoon
So the ECP3420 model includes an additional filter for ESE pods. While the Stilosa is compatible with ESE pods, you'll have to purchase the basket filter separately.
None of these machines includes a frothing pitcher, so I recommend you add that to your purchase.
Which Should You Buy – DeLonghi Stilosa or DeLonghi ECP3420?
These models have more in common than differences. Looking at the specs and functionality, both are exactly the same, and can make the same espresso and milk froth quality.
So pick whichever one suits your budget and kitchen decor! It's really this simple. Also, do keep in mind that there are a few accessories that you should add to your purchase, so you can count the price of these accessories to your budget.
Related:
DeLonghi Stilosa vs Breville Bambino
Recommended Accessories for DeLonghi Stilosa or DeLonghi ECP3420
These espresso machines will comes with some standard accessories, but they're not of best quality. The tamper is plastic and is combined with the coffee scoop, and none of them include a milk jug.
And as you might know, for espresso, you need to use really fine coffee grinds. You have the option of buying pre ground coffee, which is easier and quicker, or if you prefer to grind your own beans, you'll need a conical burr grinder that can grind fine enough for espresso. A blade grinder won't cut it, as they don't grind fine enough and produce inconsistent coffee ground.
1- Stainless steel tamper
Using a stainless steel tamper adds a nice weight to the grounds without you having to put a lot of pressure on it. Unlike a plastic tamper which will require more force from you. You can buy any tamper you like as long as it's a size 51mm.
2- Milk frothing pitcher
This is a necessary accessory for anyone who wants to froth milk for cappuccinos or lattes. These pitchers are available in many sizes, but I'd advice you to go with a small or medium size, because the steam wand on both DeLonghi models is not tall, so steaming a large pitcher is harder.
3- Conical Burr Grinder
This is an optional purchase for anyone looking to use freshly ground beans. Grinders are available in a wide range of prices and specs, but since you are using a small budget machine, you don't need a high-end grinder. All you need is: a conical burr grinder that can grind fine espresso ground. And there are many grinders available for under $100.
Using Coffee Beans and ESE Pods
When choosing coffee beans, you can select any roast or blend you like! I know many people are under the impression that to make espresso, you have to purchase 'espresso roast'. That's not true. 'Espresso roast' is just marketing term for dark roasted beans. In reality, you are free to use any type of beans you like, as long as you grind them correctly for espresso use.
If you don't want to get yourself into the world of espresso grinding, simply buy preground coffee that says 'fine grind' or 'espresso grind'.
Your other option is to use ESE Pods (Easy Serving Espresso) pods. These are pre-measured espresso pods that you can use with a portafilter. But do make sure that you use the correct filter basket when brewing ESE pods. You can read all about DeLonghi's best ESE pods here.
Features of DeLonghi Stilosa Espresso Machine
The DeLonghi Stilosa manual espresso machine is an excellent choice for anyone who is looking to make quality espresso at home. This reliable and well-crafted machine has a 15 bar pump that ensures optimal pressure for a single or double espresso. the extraction process is manual, and so is the use of steam wand to texture milk for lattes and cappuccinos. It also comes with a stainless steel boiler designed to last for years and a two-level cup holder that makes it easy to accommodate taller cups. Plus, it's compatible with ESE Pods for added convenience. The exterior of the machine is made out of plastic, but its sturdiness ensures it will hold up to daily use.
In conclusion, the DeLonghi Stilosa manual espresso machine is an excellent choice if you want to enjoy quality coffee drinks in the comfort of your home without spending too much money. Its features are designed to make it easier to brew espressos, lattes, and cappuccinos while ensuring durability and ease of use – all of which make this an ideal purchase for any coffee lover.
Features of DeLonghi ECP3420 Espresso Machine
The DeLonghi ECP3420 is all the same to the Stilosa model. This machine packs some good features, such as a-bar pressure pump, manual steam wand, stainless steel boiler and compatibility with ESE pods. The exterior of the is also available in different housing choices – stainless steel and plastic or fully stainless steel – it easy to the model that best fits your style and needs.
Thanks to its 15 bar pressure pump, this can ensure optimal extraction of a single or double shot of espresso with every use. manual steam wand makes it easy to texture milk for lattes and cappuccinos ease. Moreover, the stainless steel boiler ensures durability, so you won't have to worry replacing your coffee maker anytime soon. Furthermore, the ESE pod compatibility makes it easier than ever to make delicious espressos at home without any hassle of measuring ground coffee.
Overall, DeLonghi ECP3420 manual espresso machine is an excellent choice if you're looking a reliable and high-quality coffee maker without breaking the bank. It's packed with designed to make it easier to create quality beverages while ensuring durability and convenience at the same time.