The Capresso EC Pro is an excellent entry-level espresso and cappuccino machine for the home. It is a manual machine that is fairly simple to use, made of high quality stainless steel that is durable and sleek in design.
Currently there are two models available for this machine: the 118.05 and 119.05. In this post we'll try to look at the differences between them to help you with your decision.
Features of the EC PRO by Capresso:
15-bar pressure pump.
Manual flow, you control when to stop the shot.
Includes two filters for a single or double shot, and a filter for e.s.e pods.
Steam wand for milk heating and frothing.
The Capresso EC PRO 118.05:
Front panel features switches for on/off power and steam/brew.
Dial knob switches between single, double shots or steam.
The frothing wand is commercial-grade stainless steel.
The portafilter can be used bottomless, which can give you more control over your espresso crema.
42 oz water tank.
The Capresso EC PRO 119.05: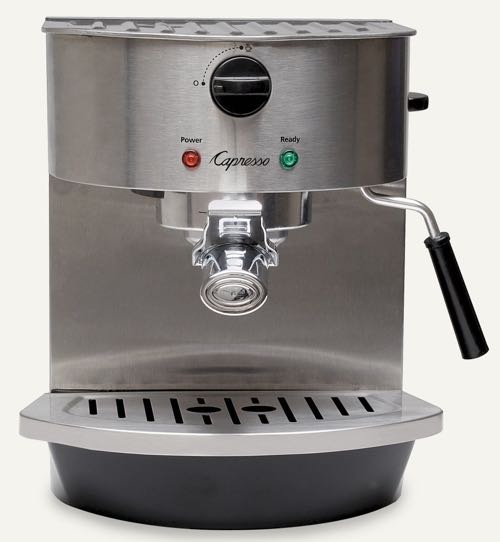 Front panel only features a dial knob for controlling your brew.
The frothing wand features a plastic sleeve, which is easier for beginners to use.
Knob for controlling the steam is located on the side.
40 oz water tank.
The Difference:
There's not much difference between the 118.05 and 119.05 when it comes to features. However, design wise, the 118.05 is better:
Overall look of the machine is sleeker and cleaner.
The stainless steel frothing wand should produce better foam.
The bottomless portafilter should give you room to practice and improve your espresso extraction skills.
Capresso EC PRO or EC100? Which Is Best To Buy?
The EC100 is another entry level espresso machine by Capresso. It has many of the EC Pro's features like:
15 bar pressure pump.
single or double shot filter, also uses e.s.e pods.
Similar dial knob to control the machine.
The difference between them:
The EC100 has a larger water tank with 46 oz capacity.
The EC100 exterior mixes some stainless steel with plastic, where the EC PRO is fully stainless steel.
The EC100 has a plastic covered frothing wand, unlike the EC PRO's commercial grade frothing wand.
Click here to read our full comparison between the EC100 and EC PRO.
Which Is Best?
The EC PRO is higher in quality and can give you better results than the EC100.
The EC PRO is also more durable and has a better construction than the EC100.
However, if you're on a tight budget, the EC100 is a more affordable option.
Watch a Video Review of the EC100: