Breville espresso machines are known for their sleek and precise design. They're packed with features, have superior quality and are available in a range that works for both beginner or intermediate and professional espresso machine users.
In previous posts, we've looked at machines like the Breville Infuser and Barista Express and have compare them to each other. In this post, we'll look at the Beville Duo-Temp Pro, its features and how it compares to other Breville espresso machines.
Features of the Breville Duo-Temp Pro:
15-bar Italian Pump.
1600W thermocoil stainless steel heater that accurately controls water temperature.
Auto purge function automatically adjusts water temperature after steam use.
Pre-infusion function applies low water pressure to the coffee ground to expand it before extraction.
Electronic PID control for increased temperature stability.
61 oz removable water reservoir.
Hot water can be dispensed through the frothing wand for making Americanos or for pre-heating cups.
Built-in storage for accessories.
Included accessories:

Tamper magnetically attached to the machine
Razor Precision Dose Trimming Tool
54mm portafilter with 4 filter baskets.
16 oz stainless steel frothing jug.
Cleaning tools.
Water filter holder and a replaceable filter.
Click here to learn more about the Breville Duo-Temp Pro, read the customer reviews and buy it.

Breville Duo-Temp Pro (BES810BSS ) vs. Breville The Infuser (BES840XL) :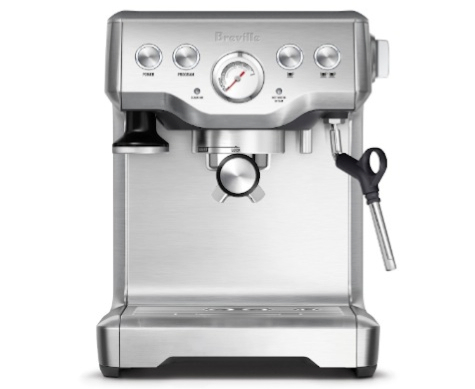 There's a lot of similarities between the Breville Duo Temp and the Infuser, but they're not quite the same. The Infuser has some extra design features that you won't find in the Duo-Temp Pro:
On the Infuser, there are two programmable buttons for a single or double shot. You can reprogram the volume metric for these buttons for automatic extraction. On the Duo-Temp Pro, there's just one selector button for Steam or Hot Water, and then with the dial knob you can either choose to extract, froth or dispense water.
Speaking of dispensing water, the Infuser has an independent spout for dispensing hot water. While the Duo-Temp Pro uses the frothing wand for dispensing water.
On the Infuser, you'll see there's a gauge on the middle of the front panel that allows you to monitor the pressure of the machine. The Duo-Temp Pro doesn't have this gauge.
The Infuser is available in 3 colors.
All other features like water tank capacity, accessories, power and pump are the same.
Click here to learn more about the Breville Infuser, read the customer reviews and buy it.

Breville Duo-Temp Pro (BES810BSS ) vs. Breville Barista Express (BES870XL):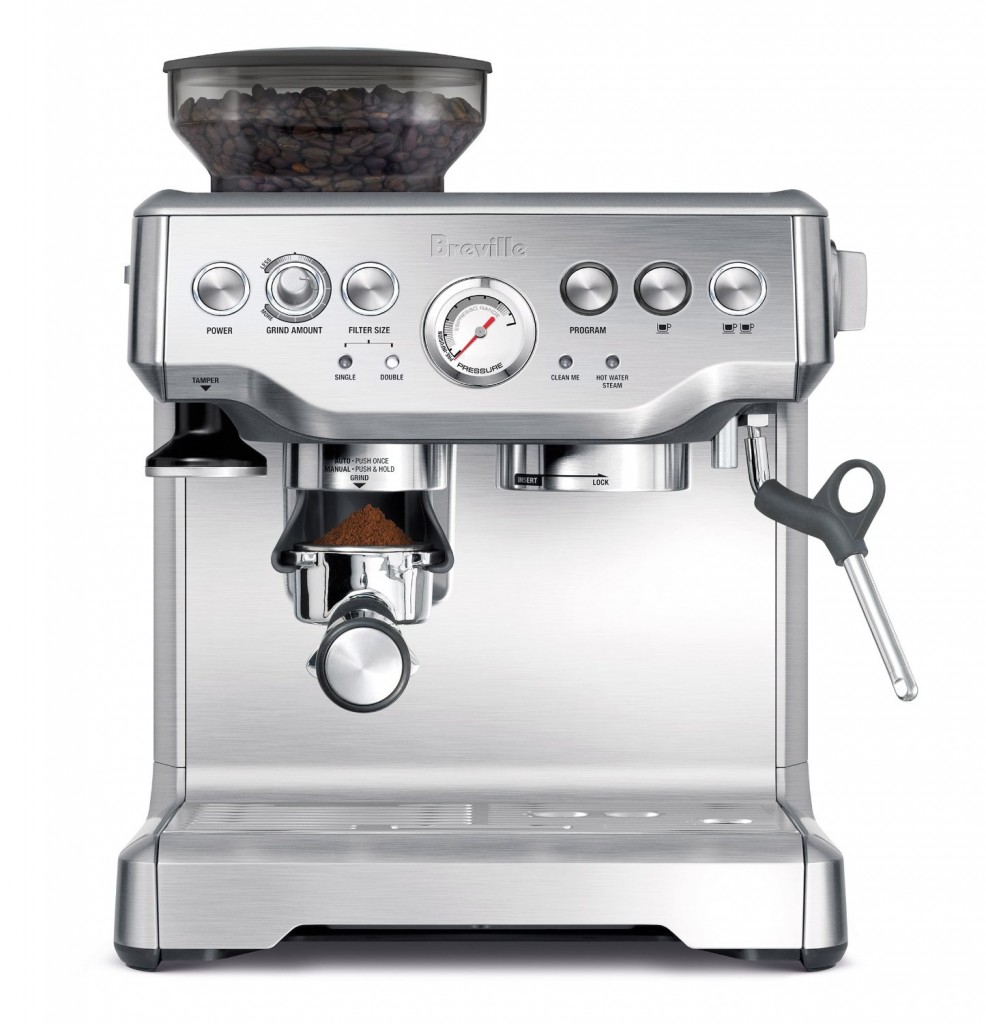 The Barista Express is rather a big jump from both the Duo-Temp Pro and the Infuser. While the do share the basic features, the Barista Express makes an all-in-one coffee bar without the need for additional gadgets:
It has a built-in stainless steel conical burr grinder with a sealed bean hopper.
It has a 67 oz water reservoir, so it's larger than both the Duo Temp Pro and The Infuser.
It has a portafilter cradle that allows for hands-free automatic grinding.
On its control panel, you'll find: grind amount selector, single/double shot buttons, program button, filter size selector, pressure gauge.
Like The Infuser, it has a dedicated hot water dispenser.
The Barista Express is available in 3 colors.
Like the other Breville Espresso machines, it comes included with all accessories: cleaning kit, portafilter with 4 baskets, water filtration, frothing jug.
Click here to learn more about the Breville Barista Express, read the customer reviews and buy it.

Breville Duo-Temp Pro vs. Gaggia Classic:
The Gaggia Classic is a manual espresso machine that packs a lot of power. Like the Breville Duo-Temp Pro, there's no progammability, you start and end your shot manually. Other features of the Gaggia Classic:
72 oz water reservoir, so it's notably larger than the 62 oz Duo-Temp Pro reservoir.
The controls on the Classic are switch buttons. On the Duo-Temp Pro the controls are LED backlit press buttons.
It has a chrome-plated brass portafilter and brew head, which gives you more temperature stability over your shot.
It has a 58mm portafilter, which is bigger than Breville's 54mm portafilter.
The Classic has a 17 1/2 bar pump pressure. While the Duo-Temp Pro (and other Breville espresso makers) has the standard 15 bar pressure.
The Classic includes: single/double filter baskets, measuring scoop and coffee tamper. You'll have to buy a frothing jug separately.
Click here to learn more about the Gaggia Classic, read the customer reviews and buy it.

Which Of These Espresso Machines Should You Buy?
When it comes to choosing the right espresso machine for you, it is very important to know exactly what you're looking for. More expensive doesn't always translate to the best choice, a bigger or more advanced espresso maker could be great but it can also have features that you might not need, so in a case like this, you could save some money to put towards another thing for your at-home coffee bar.
If you don't need programmability and automatic brewing, then either the Breville Duo Temp Pro or Gaggia Classic would be an excellent choice that will save you around $100 to $150 or even $300 ( in comparison to the more advanced Barista Express or Infuser) that you could put towards a decent conical burr grinder for example.
If you prefer an all in one solution instead of buying separate gadgets, the Breville Barista Express would make an excellent choice. You'll have everything you need right out of the box. And although it looks complicated to use, it isn't. It has automatic as well as manual, so you have room to learn and grown your barista skills.
Overall, the Breville machines give you great value for your money thanks to their great quality and the great bundle of accessories included with every machine.
Watch These Video Reviews:
Review of Breville Duo-Temp Pro:

Review of the Breville Infuser:

Review of Breville Barista Express:

How To Make a Cappuccino with Gaggia Classic:

Save
Save