Where To Buy Nespresso VertuoLine Coffee and Espresso Capsules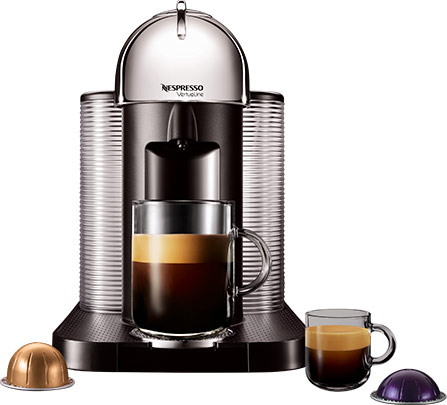 If you're planning to buy or already have bought a Nespresso VertuoLine machine, you might be wondering where you can get its brand-new espresso and coffee capsules.
Like other Nespresso capsules, the Vertuo capsules are available either directly from Nespresso, or you can buy them from Amazon.com. Although the price per capsule on Amazon.com is more expensive than on Nespresso, the list price on Nespresso's site excludes tax and shipping cost. So depending on where you are, I'd advice you to compare prices to see which deal is best for you.
Note: These capsules are compatible with the following Nespresso machines: VertuoLine, VertuoLine Evoluo and Evoluo Deluxe.
The VertuoLine Capsules: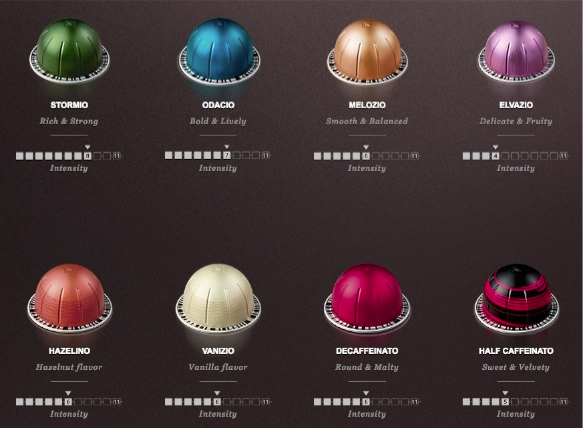 8 different coffee capsules, including decaf, half caff. and flavored coffee. Click here to see them all and buy them.

4 espresso varieties, less than the original Nespresso variety, but still just as good! Click here to see them and buy them.
Frequently Asked Questions Abount Nespresso VertuoLine Capsules:
– Are The VertuoLine Capsules Reusable?
No, they're not. Each VertuoLine capsules is carefully pre-measured to make you the perfect shot of espresso or coffee. Using the same capsule twice will only result in watered-down coffee.
– Which Nespresso Machine Are the VertuoLine Capsules Compatible With?
They're compatible ONLY with the VertuoLine machine. Remember that the VertuoLine uses different capsules than the Nespresso Original Line. You can read about the difference between VertuoLine and Original Line here.
– Are There Refillable Nespresso VertuoLine Capsules?
As of the time of writing this article (JAN 2015), there's no available refillable capsules yet.
– Are There Any Accessories and Storage Units Available for The Nespresso VertuoLine Capsules?
Yes, there is! Please click here to see them.
Recommended VertuoLine Capsule Holders: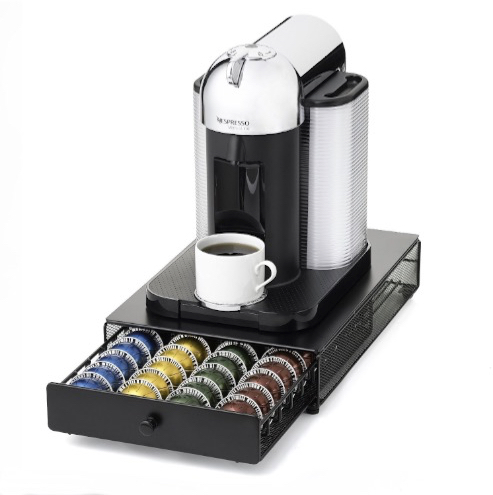 Nifty Vertuoline capsule holder organizes up to 40 capsules in a neat drawer. The drawer has enough space on top for the machine to sit on. It is made of powder coated steel so it's quite durable.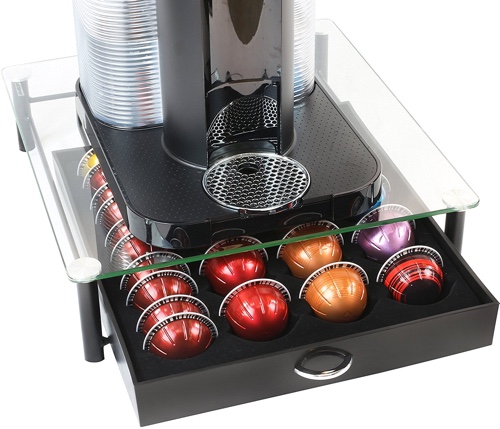 This DecoBros Capsule drawer for Vertuoline capsules can also hold up to 40 capsules. This model has a more upscale design with a tempered glass top where to machine can sit.

Save
Incoming search terms:
nespresso vertuoline capsules
nespresso vertuoline pods
nespresso vertuoline capsules where to buy
vertuoLine capsules
where to buy nespresso vertuoline capsules
buy nespresso vertuoline capsules
nespresso vertuoline compatible capsules
nespresso vertuoline capsules cheap
vertuoline pods
nespresso vertuoline pods where to buy