Best Super-Automatic Espresso Machines for Under $1000
In a previous post, we've established the difference between an automatic and a super-automatic espresso machine. A super-auto is truly what its name suggests… a super machine that does it all with a simple push of a button. There are many machines to choose from… if you've already seen some of them with a scary price tag of over $2000, we'd like to reassure you that you can still get a super-auto for way under that price. We've done the research for you and found you the top super auto espresso machines for the considerable price of under $1000.
Jura ENA4 Automatic Coffee and Espresso Center: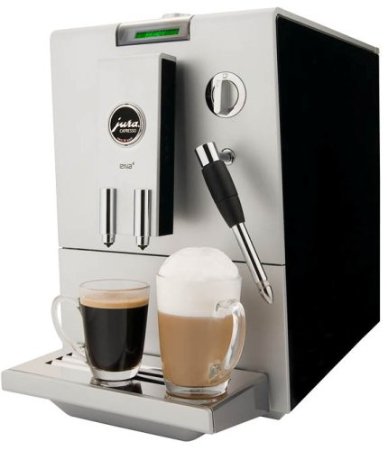 The Jura ENA4 is sleek and clean looking piece of machine that you'll want to show off on your counter-top. It's very easy to use and operate, and you're guaranteed the perfect cup of coffee, every single time!
Features:
Built-in 5-stage conical burr grinder. With pre-ground tunnel, if you prefer to fill it up with ground coffee.
Water tank size: 37 ounce – Bean hopper capacity: 125g.
Automatically grinds, tamps, brews and cleans… all under 60 seconds!
Programmable coffee volume. Adjustable coffee grind, strength and temperature.
Easy to use dial knob for programming and controlling the machine with LED display.
Adjustable coffee spout to accommodate different cup sizes.
Steam wand for milk steaming and frothing.
Made in Switzerland.
Click here to learn more about the Jura ENA4 and read customer reviews.

Saeco Syntia Focus Automatic Espresso Machine:
Saeco is known for many excellent espresso machines, and this one sits on top of them all…
Features:
Built-in coffee grinder with ceramic blade, which means: the blade never rusts + quieter grinding process and prevent metal taste on coffee beans.
Adjustable coffee strength and volume. Programmable. Auto memorization of customized drinks.
LED display + dial knob for controls.
Automatic cleaning ensures each cup of coffee prepared is as fresh as possible.
Water tank: 1.2L (about 40.5 ounce) – Bean hopper capacity: 250g.
Air-tight and UV protected coffee bean hopper. Sound insulating technology.
Steam/frothing wand.
Click here to learn more about the Saeco Syntia Focus and read the customer reviews.

Gaggia Titanium Super Automatic Espresso Machine: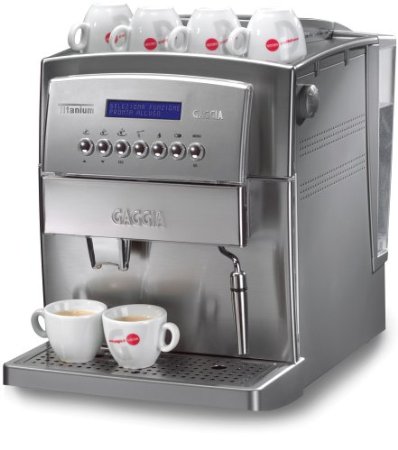 Gaggia is a top-of-the-line Italian brand that manufactures excellent machines. This one right here, while more expensive than the previous ones, it is certainly stronger, so it's one to really consider.
Features:
Solid steel housing.
Built in conical burr grinder with 18 adjustable grind settings.
60 ounce water tank. 8 1/2 ounce bean hopper.
Double stainless steel boilers: one for brewing and another for steaming.
No wait time between brewing and steaming.
Turbo steam wand for milk steaming/frothing.
Cup warming tray.
On/off timer and clock.
LCD display.
You can click here to learn more about this machine and read the customer reviews.

Which one of these should I get?
Well, it really depends on your budget and requirements. Both the Jura ENA4 and Saeco Syntia Focus are priced in the same range of under $800, and out of these two, the Saeco Syntia Focus gives you more water and bean capacity. But overall, the Gaggia Titanium has stronger features and more generous capacities. For a budget super-automatic, you can also consider the DeLonghi ESAM3300 Magnifica.
Disclaimer:
Prices, or budget indicated is valid as of the time of writing the post. Prices may change without notice. Kindly visit 'Learn More' links provided above to see the latest prices.
Incoming search terms:
best espresso machine under 1000
best super automatic espresso machine under 1000
best automatic espresso machine under 1000
$2000 coffee maker
best coffee makers for under 1000
top superautomatic espresso machine under 1000