Best Home Espresso Machines Under $100
Thought $100 or less couldn't get you an espresso machine? Think again! There are many small yet functional espresso machines that are quite budget friendly. So if that's your budget, have a look at these top-rated espresso machines for $100 or less.
Nespresso C91 Essenza Espresso Machine:
If you're into the world of single-serve espresso machines, you'll appreciate this compact espresso maker from Nespresso. For under $100, you'll get a 19-bar pressure espresso maker with 0.9 liter water tank. It uses Nespresso's capsules exclusively, but there's an (unofficial) option for a re-fillable Nespresso capsules that you can use to brew any coffee ground. The machine automatically pierces and ejects the coffee capsules to a drawer that holds up to 14 capsules before having to discard. Unlike other Nespresso machines, this one has only one size option button, but it is reprogrammable. And if you want to make Cappuccinos or Lattes, you'll have to bundle the machine with an electric milk frother.
Click here to read the customer reviews of the Nespresso Essenza C91.
NOTE: A new upgraded model has been introduced in place of the Essenza (although it's still available). It's called the Nespresso Inissia and you can read about it here.
De'Longhi EC155 15 BAR Pump Espresso and Cappuccino Maker:
Also compact in size, this DeLonghi espresso maker uses ground coffee or easy serving espresso pods to make you a nice shot of espresso. It also has a built in milk frother for heating and frothing milk to create delicious coffee drinks. The dual filter will allow you to extract a single or double shot of espresso at the same time. The water tank capacity is 35 ounces, and it's removable so it's easy to refill.
Click here to read the customer reviews of the DeLonghi EC115 espresso and cappuccino maker.

Mr. Coffee ECMP50 Espresso/Cappuccino Maker: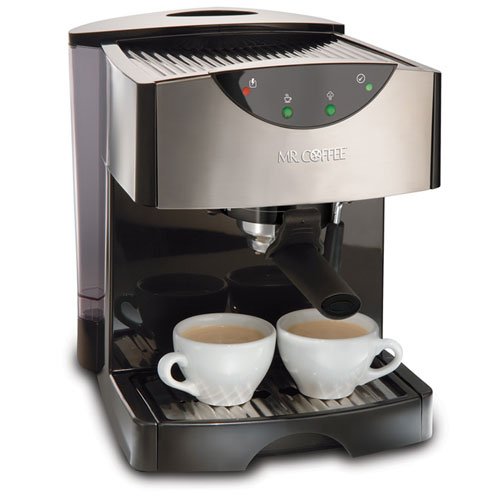 This Mr. Coffee espresso and cappuccino maker is equipped with everything you need to make a decent shot of espresso or a cup of cappuccino. A very close match to the DeLonghi machine, it has a single or double filter, a frothing wand, removable water tank as well as light indicators. Many customers have mentioned that it heats up very quickly, so it'll be ready to use in no time.
Click here to read the customer reviews of this machine.
Disclaimer:
Prices, or budget indicated is valid as of the time of writing the post. Prices may change without notice. Kindly visit 'Learn More' links provided above to see the latest prices.
Incoming search terms:
best espresso machine under 100
best espresso machine for $100
best espresso maker under $100