Best Automatic Espresso Machines Under $500
Finding an automatic espresso machine under $500 is not an easy task as the price range for them is always above $600. However, there are a few select ones that are great and fit for a budget of $500 and under. Of course, you'll have to compromise a feature or two, but they're still just as great as their more expensive ones.
Buying from Amazon.com? Make sure you get your purchase within 2 days for FREE + get unlimited streaming of HD TV shows and Movies with an Amazon Prime 30-days trial! Click here to learn more.
Breville BES840XL the Infuser Espresso Machine: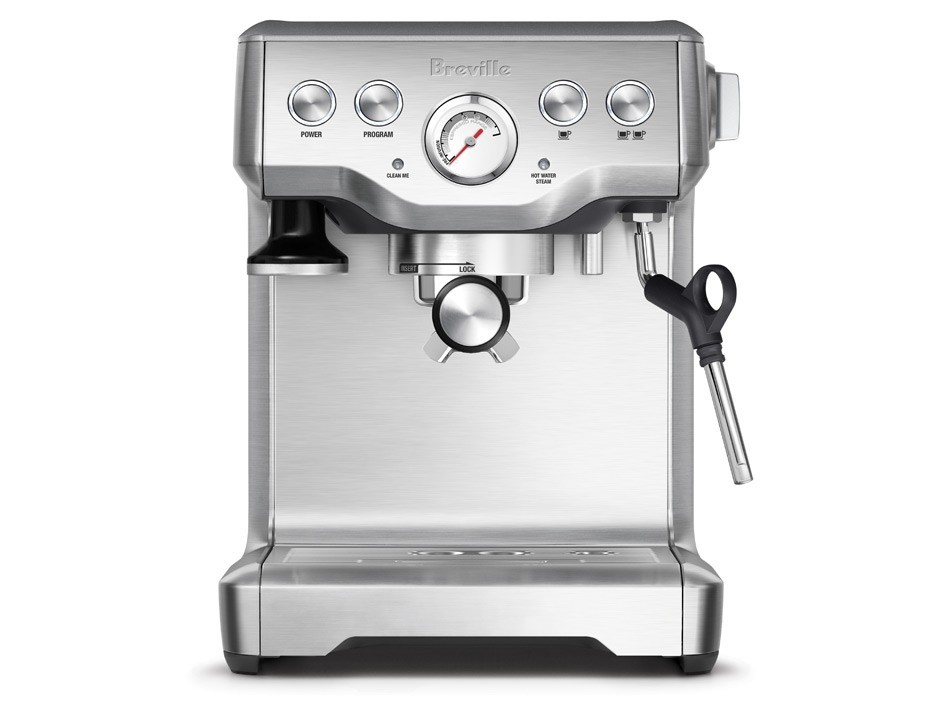 Breville is an Australian brand that is well-known for its commercial-grade machines that are targeted for the home user. This machine, called The Infuser, by Breville is strikingly beautiful, with sleek stainless steel housing and illuminated buttons, you know you're getting something worth showing off. That's not all though, the features of this machine are just as fantastic:
The Infuser guarantees balanced flavor and even extraction by starting with low pressure and gradually increasing to high pressure. Your Espresso will always be flavorful and well balanced.
1600w thermocoil heating system with integrated stainless steel water coil that controls the water temperature automatically and accurately.
Auto purge function automatically adjusts water temperature for best espresso extraction.
preset, manual over-ride or re-programmable volumes.
hot water dispenser.
Included with the machine: Single & dual wall filter baskets (4), coffee scoop, stainless steel milk jug, cleaning disc & tablets, cleaning tool & allen key, water filter holder & filter.
Click here to read more about this machine and read the customer reviews.

DeLonghi EN680.M Nespresso Lattissima Single-Serve Espresso Maker: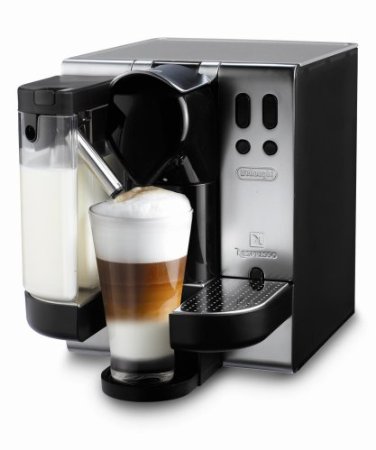 This machine might not be the first choice for a coffee snob, although it is quite good and makes delicious coffee. However, it's a capsule system which some people might not prefer. The machine is manufactured by DeLonghi and uses a Nespresso capsules system. It's as automatic as auto gets, you insert a coffee capsule and with a push of a button you've got your coffee ready.. and there's no mess to clean after!
Features:
DeLonghi's patented 'Single Touch' hot milk system which heats and froths milk with a touch of a button.
Detachable milk tank makes it easy to store left over milk for your next beverage. Simply detach and keep in fridge, slide the tank in place when ready to use.
Nespresso's capsules system gives you a choice of many exclusive Nespresso coffee capsules to choose from.
Sliding cup tray accommodates many cup sizes.
Double boiler system allows you to froth and brew coffee at the same time. No wait needed.
easy to use, illuminated control buttons.
Cup warming tray on top of the machine keeps your cups warm and ready to use at all times.
Click here for more info on the DeLonghi Lattissima and to read the customer reviews.

Saeco Vienna Plus Automatic Espresso Machine:
Here's an excellent machine at an even more excellent price. The Saeco Vienna Plus, although not a new model, has some great automatic features. Firstly, it features a built-in grinder, which you'll rarely find in a machine for under $500… other features include:
12-ounce bean container; Opti-Dose adjustable doser.
Removable 57-ounce water tank.
Pannarello frothing steam wand. Hot water dispenser.
Conical burr built in grinder.
Adjustable coffee grinds.
Stainless steel boiler.
Learn more about this machine and read the customer reviews here.

Disclaimer:
Prices, or budget indicated is valid as of the time of writing the post. Prices may change without notice. Kindly visit 'Learn More' links provided above to see the latest prices.
Incoming search terms:
best espresso machine under 500
best espresso machine under $500
best automatic espresso machine under 500
best espresso machines under 500
best automatic home espresso machine under 500
the best coffee nespresso machines
best delonghi espresso machine under $500
expresso under 500
best espresso maker under $500
best espresso under 500