We've already compared a few Saeco super-automatic espresso machines like the Pure vs. Minuto and the Intelia vs. Syntia. Today we'll be adding a third comparison that looks at the Intelia vs. Minuto.
Saeco Intelia vs. Minuto, What Is The Difference?
Image
Title
SAECO HD8753/87 Philips Intellia Cappuccino Fully Automatic Espresso Machine
SAECO HD8775/48 Philips Minuto Focus Fully Automatic Espresso Machine
Feature
One touch cappuccino
Integrated automatic milk function with Easy Refill, milk carafe included
Adjustable coffee strength and temperature, Ceramic grinders for Aroma preserving
Automatic cleaning and de-scaling
Pre-brewing function for flavor enhancing

Saeco's new dual pressure lever makes both espresso and coffee
New patented automatic milk frother for one touch froth
No more burnt coffee thanks to our 100% ceramic grinders, Fully automatic rinsing and de-scaling
Memo function thanks to an intuitive display interface
Adjustable grinder to play with the coffee richness, One click removable brewing group

Reviews
Read Reviews
Read Reviews
Link
More Info
More Info
Both the Intelia and Minuto feature built in ceramic burr grinder that all Saeco machine use. They both also feature a bypass doser that allows you to use pre-ground coffee without using the grinder.
You can adjust the grind settings as you like.
You can control the coffee strength and re-program all settings using the LCD screen available on both machines.
You can also save any special customizations to your drinks
Here's where you'll find the difference:
The Minuto is a Dual pressure espresso machine which allows it to brew a long cup of coffee, too. For brewing espresso, it will use 15 bars of pressure, for coffee, it will only use 3 to 5 bars, which means you get a long cup of coffee with just a little bit of crema, very similar to a cup of drip coffee.
Lever on the brewing head is used to choose between espresso or coffee brewing.
Options on the Minuto include: Espresso, Medium coffee, large coffee. You can also use the milk frother for steam or hot water, which you can choose from a button.
The brewing head on the Minuto is not adjustable in height, which might cause a bit of splashing when brewing into a short cup.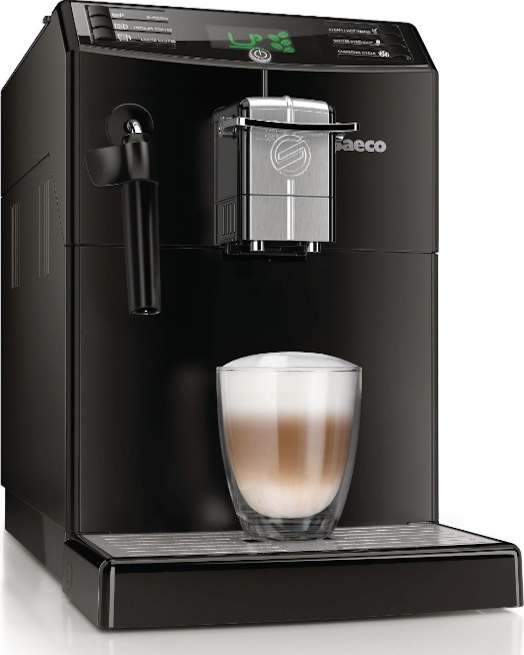 Click here to learn more about the Saeco Minuto, read the customer reviews and buy it.

See it in action:
As for the Saeco Intelia:
It has an integrated milk frother that the Minuto lacks. You can create milk based drinks with a touch of a button.
The milk tank is fully detachable so you can easily refill it and save any left over milk in the fridge.
It has pre-programmed button for Cappuccino and another for 'Special' drinks, which means Lattes or Macchiatos, it will allow you to adjust the milk to espresso ratio.
The Intelia does NOT make coffee like the Mintuo as it works with 15 bars of pressure only.
The brewing head on the Intelia is adjustable in height.
Click here to learn more about the Saeco Intelia, read the customer reviews and buy it.

See it in action:

Which One Should You Buy, The Saeco Intelia or Minuto?
The choice shouldn't very  hard here:
If you want both coffee and espresso – the Minuto is for you.
However, if you drink more milk based espresso drinks, you'll love how easy and quick the Intelia is in preparing those. For coffee, you'll have to have a separate coffee maker or alternatively, you can make Americano (double espresso + water).